A school principal in Makueni County is currently in police custody for allegedly forcing a form four student in dormitory bed during the night hours.
The victim's parents told the police that it was few minutes before the beginning of the evening classes, that the suspect beckoned and asked to see the victim after the evening classes.
Without hesitating, the victim went to see her as earlier agreed, and the teacher told her that she wanted to talk to her privately.
Since she had no time because of busy schedule, she proposed to meet her outside schools' dormitory near the main entrances gate.
The alleged teacher said to have found the girl already standing beside the main entrance to the Hall, where she pulled, and force her to have an act repeatedly in school's dormitory bed.
The girl's mother continue saying their daughter told them that the suspect has been persuading her to have a sexual relationship with him for months, but she has been declining his advances.
Makueni County TSC Director Mr. Alex Cheruiyot affirmed the incident saying he got wind of the incident on Tuesday, and his officers started investigations with a view of taking disciplinary action against the principal, if found guilty.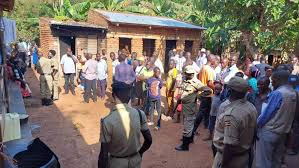 Mr. Cheruiyot also termed the incident as unfortunate, from an officer who is supposed to take care of students, who have been put under his custody.
"This is an unfortunate and barbaric incident committed by an individual who has been given custody of students by the public. We will take stern action against the principal if found culpable," Mr. Cheruiyot said while speaking to media.