Bizarre
Posted on
Author
kennedy
Comments Off

on KAREN NYAMU attacks SAMIDOH's wife for supporting her opponent in the Nairobi Senatorial race – These ladies will exchange blows one day.
Samidoh's baby mama, Karen Nyamu, is unshaken after the musician's wife, Edday Nderitu, declared that she is supporting her rival in the Nairobi Senatorial race. Nyamu is vying for the seat on UDA ticket while the applicant that Samidoh's significant other is supporting, who turns out to be her best friend, is running for a […]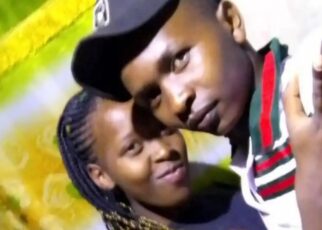 Posted on
Author
Jack Reu
Comments Off

on SHOCK as it emerges that the lady brutally murdered and her body dumped in a suitcase might have been killed by her husband – See what detectives discovered.
Posted on
Author
kennedy
Comments Off

on Wenye wivu wajinyonge! GUARDIAN ANGEL shares a video goofing around with his 50 year old 'GRANY WIFE' like teenage lovers
31 year old gospel artist, Guardian Angel, who is known for the hit song Nadeka, is enamored with Esther Musila, a 50 year old mother of 3. In spite of their age difference of 20 years, Guardian and his lover, who works for United Nations (UN), are serving kenyans couple goals The young man has […]
Posted on
Author
kennedy
Comments Off

on Mombasa Women Who Work At Night Reveal Why They Don't Like Hosting Indian Soldiers as Customers
Twilight girls from Mombasa have opened up about or rather she light with regards to their business in ahead of the approaching Christmas festivities. While uncovering what they go through, Ann Njeri not her name said that their primary issue is when a customer requests them to go with them to their homes because o […]
Posted on
Author
kennedy
Comments Off

on Karen Nyamu reacts to 'chuma' comment during William Ruto's rally
City sly Queen Karen Nyamu was on the radar of netizens on Wednesday after her remarks during a UDA rally in Nairobi. At the presence of William Ruto, Karen said the DP is more vigorous than his rivals. "Nimetumwa na warembo wote wa nchi hii, wanasema wale wanatupangia mzee pale kwa hoteli wawache madharau bana. […]
Posted on
Author
kennedy
Comments Off

on Meet Aliko Dangote,Richest Man In Africa
Although intently $2 billion drop in his fortune, the founder and CEO of Dangote Group, Aliko Dangote remains the richest man on the African soil with the total net worth of $12.4 billion. As of now, he's 100th positioned, as per Forbes Billionaires list which also included Jeff Bezos, the founder of the world's e-commerce […]
Posted on
Author
kennedy
Comments Off

on Wenye wivu wajinyonge! GUARDIAN ANGEL shares a video goofing around with his 50 year old 'GRANY WIFE' like teenage lovers
31 year old gospel artist, Guardian Angel, who is known for the hit song Nadeka, is enamored with Esther Musila, a 50 year old mother of 3. In spite of their age difference of 20 years, Guardian and his lover, who works for United Nations (UN), are serving kenyans couple goals The young man has […]