A 24-year-old woman hailing from Eldoret experienced a devastating heartbreak when her marriage ended a mere 24 hours after the wedding ceremony, all due to her refusal to engage in conjugal relations with her newlywed husband.
Despite sharing a three-year courtship, their once-promising relationship crumbled under the weight of seemingly insurmountable differences.
The distraught bride, Jackline Chepngetich, recounted how her husband, Kiptanui, abruptly left her less than a day after they exchanged their vows at the AIC Fellowship Church in Eldoret.
The shocking twist in their story occurred on the night of their wedding when Kiptanui requested intimacy, a customary practice for newlyweds. However, Jackline, citing exhaustion and the need for rest, declined his advances.
A deeply disappointed Kiptanui confronted Jackline, expressing his frustration as she had previously suggested that they remain celibate until after their wedding. He lamented how he had eagerly anticipated their wedding night, only to be denied the customary ritual.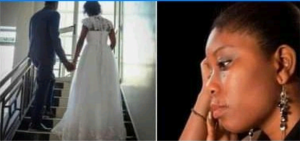 In an attempt to negotiate with her husband, Jackline proposed that they could address the matter on another occasion and attributed her exhaustion to the day's wedding activities. She managed to persuade him to set aside their differences for the night, promising to address the issue the following day.
Unfortunately, Jackline's world came crashing down the next morning when her parents broke the news that Kiptanui was seeking a divorce. His reason? Jackline's refusal to comply with his request on their wedding night, a deviation from the traditional expectations for a Kalenjin woman.
To her shock, Kiptanui had disappeared, returning to his hometown in Eldoret, even though they had booked a two-night stay in Diana for their honeymoon. Jackline learned about his departure when she inquired at the hotel reception.
As of the present, Jackline remains single and has not crossed paths with Kiptanui since their sudden divorce. She learned that he remarried another woman several months later.
This unique tale of a whirlwind romance and divorce brings to light the complexities of marital expectations and cultural norms in today's society.