Sandra Dacha is one of the Kenyan actresses who have a dark past. She has been through alot before making it in life. She has rose from grass to grace. Her success story is inspiring.
Read Also :
Who is Sandra Dacha.
Sandra is a famous female actress in Kenya. She was born in the slums of Mukuru kwa Kayaba, 32 years ago. She is the third one out of the 4 siblings. The matrimonial home of Sandra is Ugenya, Nyanza region. She is also a mother of an 8 years old boy.
How Sandra Dacha Became an Total orphan at an Early age.
Sandra Dacha became an orphan at the age of 10 years. She lost both parents. She has been brought up by her grandmother. Her mother was a business woman, while her father was a watchman.
How Sandra Dacha was raped at the age of 9 years.
This is one of the things that still hurts her. Sandra used to hawk groundnuts at a younger age. She did this to support her mother. So her mother had warned her not to go to lunar park during events.
She decided to take a risk and went there. When it reached at evining, she couldn't trace her way back home. She decided to ask for help and one man offered to help her.
The man had a car and promised to drop her at Mkuru kwa Kayaba. That man went straight at his parking lot and he raped Sandra Dacha. That is how she was assaulted at the age of 9 years.
Schooling
After primary school, she joined Lugulu Girls, but she was expelled while still at form one. She was taken to a mixed school in Bumula. She completed her form four and scored a C plain.
Hustling Life.
Staying at a ksh. 100 house in Korokocho Slums.
Just like most of the children from a poor background, Sandra Dacha decided to come to the city and start hustling. She rented a house at Korokocho Slums. She used to pay a house rent of ksh. 100 per month, and sometimes she couldn't afford it. This was in 2010.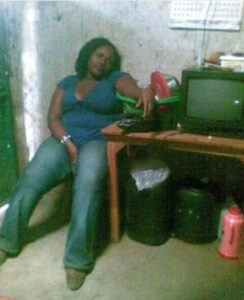 Selling Chapatis.
Her main source of living was through chapati business. Just like her late mother, Sandra started selling Chapatis and groundnuts. The business was awesome and she even upgraded to a Mabati house. Here she used to pay a house rent of ksh. 200.
Acting Journey of Sandra Dacha.
While living at Korokocho, Sandra was a part time setbook actress. She used to go to the theatre, rehearse and play several roles in setbooks acting. She became a very good actress, even a Jalang'o noticed her and featured her in one of the plays.
Joining Auntie Boss NTV
The efforts of Sandra in the theatre were amazing and she was recognised. By good luck, Sandra Dacha Joined Auntie Boss at NTV. Her acting name was Silprosa. She played a role of a Househelp. From NTV is when people started knowing her. She used that fame to grow her brand.
Signing Multimillion Deals.
Growing Facebook and Instagram account has played a very big role in making Sandra Dacha a huge brand. After the end of Auntie Boss, Sandra started using her brand. Because she was famous, alot of brands approached her.
The first Multimillion brand ambassador job was becoming a brand ambassador of Akothee Safaris. She then worked with Home clothing, peptang, flour companies. She is a brand ambassador of many products. She is stable, living a lavish life and making bigger moves.