On February 17, Muraya took to his social media pages to announce the imminent completion of Baby Maina's new house, which is set to officially open before the end of February 2023.
"We thank Jehovah for his blessings upon Baby Maina's family. We are proud to announce that we are nearly 95% complete, and we will be handing over the house to all those who supported this ministry soon. May Jehovah continue to enlarge your territories," he wrote.
The house was built with the help of generous donors who contributed towards helping the young boy, whose plight had gone viral online. Baby Maina had revealed that he was selling second-hand clothes to make ends meet, even though he was only in Class One.
Despite working hard in the mitumba business alongside his friend Kamau, Maina still had to give all his earnings to his mother for food and other household essentials. The family was living in a deplorable mud house covered with rusted iron sheets.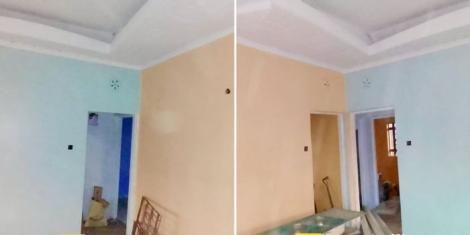 However, the new ultramodern house boasts several amenities, including a kitchen, washroom, and spacious living room. The interior is decorated with bright colors that light up the rooms, while the exterior is made of alluring exposed brick and a strip of ruby maroon color complete with roofing tiles in burgundy.
Kenyans have been touched by Muraya's kind gesture and that of other well-wishers who contributed towards helping needy children and families. One supporter commented, "Givers are never disappointed by good work. In due time, you will reap what you sow. May the Lord remember your passion for everything you have done."
On January 5, 2023, Muraya received Ksh300,000 from well-wishers to be used in building the young boy a house and buying food. Additionally, Kameme FM journalist Muthee Kiengei and other partners have vowed to ensure that Baby Maina's education is taken care of.
Since January, Muraya has been updating supporters on the progress of the house, which is aimed at alleviating the young boy's family's plight.