News anchor Mashirima Kapombe is known for being one of the most private celebrities in Kenya, which makes it even more special when she shares glimpses of her personal life with her fans. Her son, Kenga, is the center of her world and every time she posts pictures or videos of him, it is impossible not to feel a warm and fuzzy feeling in your heart.
Kenga is the product of Kapombe's relationship with comedian Kazungu Matano, also known as Captain Otoyo Sibuor. Despite the fact that Mashirima is raising Kenga as a single mother, the two have created a beautiful and handsome son together.
Contrary to popular belief, Mashirima Kapombe is not married to Captain Otoyo. In response to a fan's inquiry, Mashirima denied the rumors of being married and stated, "I am not married."
On February 7, 2023, Mashirima celebrated her son's eighth birthday by sharing photos of him on her social media. In her post, she wrote, "Eight years and counting. Happy birthday my darling Kenga ❤️ You are my everything."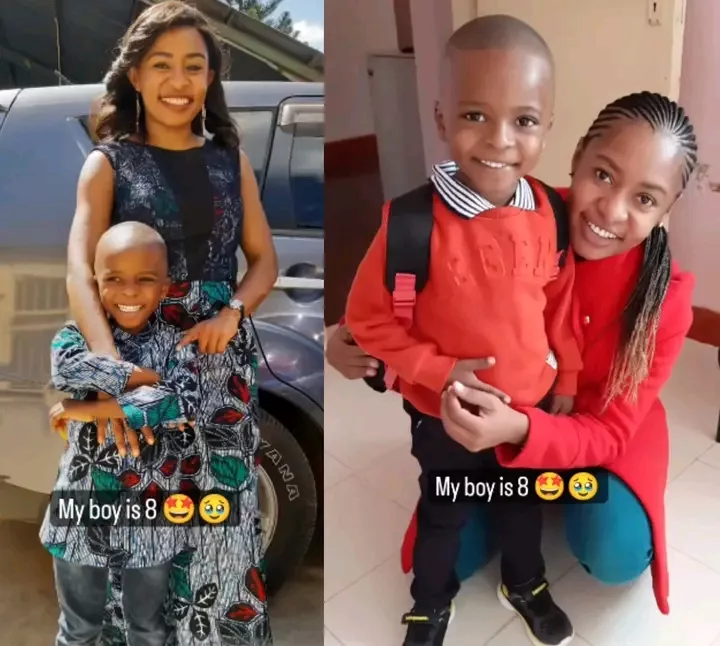 The bond between Mashirima and Kenga is incredibly close, as seen in a throwback video that Mashirima shared before his birthday. The video shows the two lip syncing to a nursery rhyme and expresses Mashirima's love for her son.
Additionally, Mashirima and Kenga are known for supporting local entrepreneurs and recently visited the Made in Kenya Extravaganza to show their support for a vendor that sells cashew nut products. The proud mother and son even brought home a load of treats from the event.
Mashirima and Kenga also have a silly side, which they showed in a skit to promote Woman's Hope. Mashirima played the role of a customer and Kenga, who inherited his father's acting skills and sense of humor, played the shopkeeper. Their chemistry was contagious and fans loved it, taking to the comment section to express their enjoyment.