Akothee, a prominent female artist hailing from Kenya, is renowned not only for her musical talents but also for her extravagant lifestyle and impressive real estate portfolio. Her properties are estimated to be worth hundreds of millions and are spread across various locations in Kenya and even abroad.
Akothee has established herself as a successful entrepreneur alongside her music career, with multiple opulent residences and a flourishing hotel business.
Rongo Mansion
Among Akothee's impressive properties, her mansion in Rongo stands out, valued at a minimum of Sh. 80 million. This luxurious abode boasts modern amenities like a swimming pool, jacuzzi, and a meticulously landscaped garden, providing the artist with an ideal retreat.
In a candid social media post, Akothee shared a challenging experience related to her Rongo property. She revealed that she had been swindled when initially purchasing land for her mansion in Rakwaro due to a lack of proper due diligence on the title deed's authenticity.
Despite this setback, Akothee's determination led her to eventually acquire the property in Rongo, where she constructed her lavish mansion.
Bungalow in Mombasa
Akothee also possesses a bungalow in Mombasa, a property that reportedly cost her approximately Sh. 120 million. This impressive 16-bedroom house is strategically located and comes equipped with all essential facilities, adding to her impressive real estate holdings.
Nairobi Home
After residing in Mombasa for nine years, Akothee decided to make a move to a posh home in Nairobi, estimated to be worth Ksh. 80 million.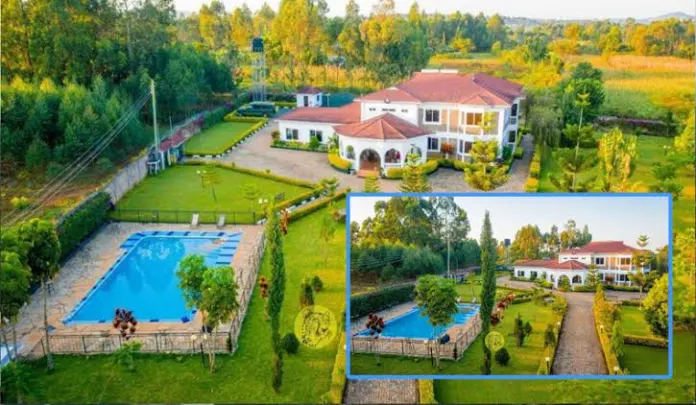 Switzerland House
Akothee's real estate investments transcend Kenya's borders, as she owns properties abroad, including a four-bedroom house in Switzerland. In an interview with the Daily Nation, Akothee disclosed that she possesses two mansions in Switzerland, one in Zurich and another in Lugano. It's worth noting that she even counts American-born Swiss singer Tina Turner as her neighbor in Lugano, demonstrating her international connections and stature.
Morning Star Diani Hotel
Beyond her real estate ventures, Akothee is also a player in the hotel business. She is the owner of the Morning Star Diani Hotel, a 3-star establishment situated in Diani, a popular tourist destination in Kenya. This further attests to her multifaceted success as an entrepreneur.
In summary, Akothee's story is one of resilience and achievement, from overcoming adversity in her real estate endeavors to thriving as a musician and businesswoman. Her lavish lifestyle and diverse property holdings have solidified her status as a notable figure not just in the Kenyan music scene but also in the realm of entrepreneurship and luxury real estate.