Thee Pluto is one of the youngest millionaires in Kenya . At the age of 23 years old he already owns a mansion, 3 cars and he is living a very lavish life. However his journey to success hasn't been easy as many people think.
Background.
He is the third born in the family of seven . His real name is Robert Ndegwa Kamau. Born on 27th August 1999 in Naivasha.
Education
He us one of the brightest content creators in Kenya. Thee Pluto attended primary school at Maiela Township and Luci Amen Junior, He joined Githiga Boys high school in Mai Mahiu, Kiambu County.
After scoring a mean grade of A-, he joined Jomo Kenyatta University of Agriculture and Technology (JKUAT) to study Actuarial Science before switching to Economics.
Hustling Journey of Thee Pluto.
In 2017 he worked as a PTA Mathematics teacher at  Bishop Oishere Secondary school in Mai Mahiu. He used to earn 8k per month.He also started learning online businesses.
In 2018 he opened a Movie shop but things went left , people broke into it and robbed everything. He also tried YouTube but things failed.
2019 , he started hawking female shoes in Thika, life was tough . He also did other business  such as alcohol activation. By good luck he got employed by Vskit and started earning 15k per month.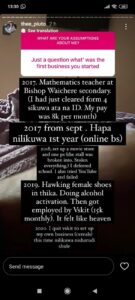 2020 he quited Vskit and started his own cereal shop . He also ventured alot into crypto currency. From the profits he made, he bought two pieces of land in Joska and here he started investing in real estates.
2021 he bought his first car Nissan Juke .He also met his girlfriend Felicity and they started doing couples goals. The two broke up and Thee pluto bought his 2nd car Prado J150 and started Loyalty Test.
Loyalty test went viral and he started gaining fame. His youtube channel grew and he became one of the biggest content creators in Kenya.
YouTube Millionaire
Starting from 2021 to 2022 , He started making millions of money on Yiutube and expanding his investment. Statistics shows that he earns over ksh.2Million from YouTube per month.
He is living in a lavish mansion, he owns 3 cars and one of them he gifted her girlfriend Felicity who is expectant(2022). Thee young content creator also owns a car hire business and has invested alot in resl estates. He is making millions from those businesses.