Lynlee Hope has one of the most amazing and inspirational stories that sounds almost unbelievable to many people. Anyone who believes in miracles and even the incredible works of our medical experts will definitely agree that nothing is impossible on this earth. Anything can be done. 
Like any mother who has become pregnant and is expecting a baby, Lynlee's mother had great expectations for the arrival of her newborn baby. The Texas, Lewisville couple had high expectations and, like any other parent, hoped for the best. Margaret Hawkins, a caring mother, noticed something was wrong with the baby in her womb. 
After a thorough analysis of the problem, the mother noticed that some kind of tumor was growing around her spine and decided to seek help from medical experts so that they could diagnose the real problem.  In fact, it was the baby in her womb that developed a tumor in the spinal areas. Once this was discovered, a step described as dangerous and risky had to be taken in order for the baby to survive.Any further delay would result in the death of the baby or even a later birth with serious complications.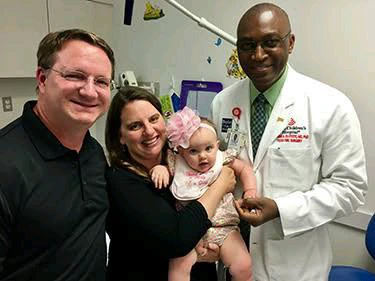 Dr Oluyinka Olutoye from Nigeria was responsible for the whole process. In order for the baby to survive, the 16-week-old fetus had to be removed from the womb and then the tumor removed. and then returned to the womb.  Baby Lynlee was removed from the womb for 20 minutes at just 16 weeks old and then returned to the womb to allow her to grow back to a full 9 months.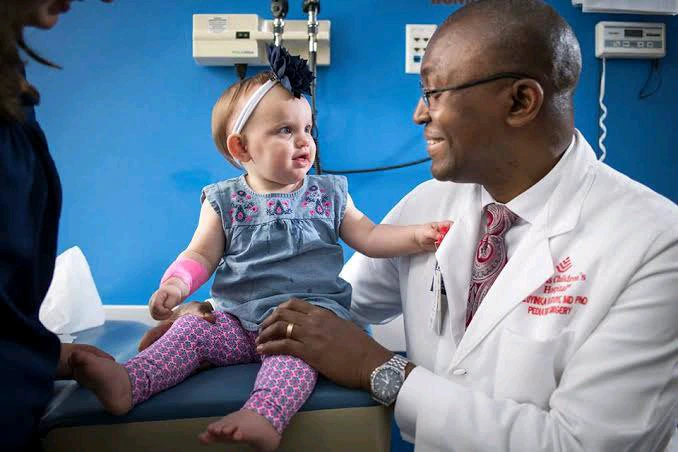 The baby was successfully removed and reinserted into the uterus and allowed to grow fully for the remaining months. After 9 months the baby was born and was completely normal like any other child. That's why many have named the baby Lynlee. the baby who was "born twice," while others call her a miracle baby.   
Fetal surgery is a very rare operation and it takes a brave expert to even attempt it.It's so amazing how technology works and we can't help but appreciate the advanced technology that has made almost everything possible.  It was a horrible operation and Dr. Oluyinka Olutoye from Nigeria was the first in the world to perform such an operation. Thanks to Him, the baby's life was saved and thank you for reading this article.  
Content created by: Dnesh