Ringtone Apoko, a gospel singer, has spoken out about meeting fellow pastor Justina Syokau and what he thought of her.After months of Syokau flogging the Pamela crooner on social media, the two performers finally gave an interview together.
Ringtone stated in an interview with Mungai Eve that when he hugged Syokau, he stood straight as a pole to avoid any issues.
He once boasted that he could purchase Twendi Twendi Thili a Range Rover, but he was surprised when she followed him and asked for it.
He did, however, reveal that he is willing to give the singer, Vitz, a car provided she stops seeking clout and starts living her actual life.
This comes days after the mother of one, cried in an interview, claiming Kenyans were trolling her after releasing her New Year song.
Syokau, while marketing her song, lied that she used millions to accomplish her goal of enlarging her booty size.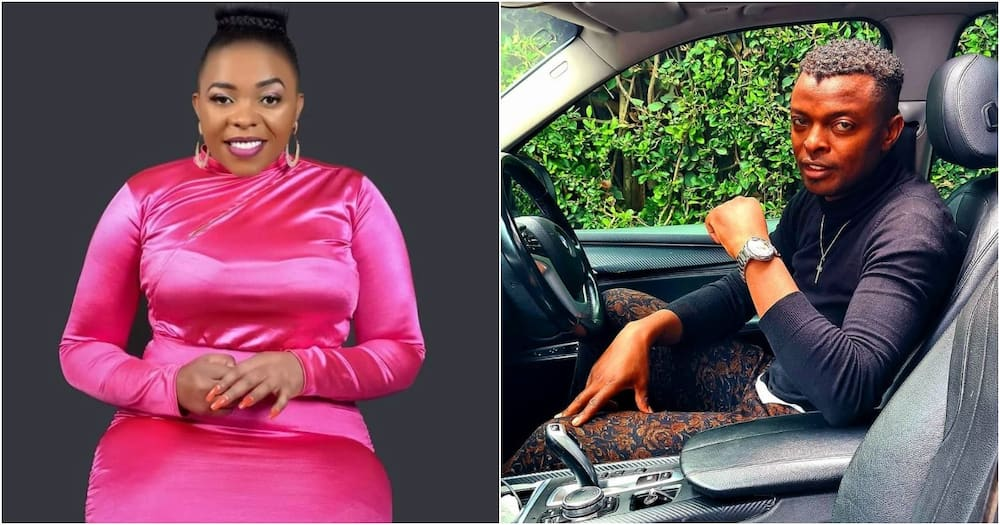 Instead, she inserted clothes in her skirt to insinuate she had a bigger behind which left social media users perturbed.
"Alikuja kuniitisha Range Rover bana. Nikasema huyu mtu ni wazimu. Kusema ukweli, akichange tabia naweza mbariki kwa sababu hivo ni vitu vidogo. Akichange tabia, pengine Vitz, akuwe real na awache vipindi mingi. Awache kudanganya kwamba ametumia million tatu kuvuruta trouser kuweka pillow case," he said. (She came asking for a Range Rover and I said this person is crazy, to be honest if she changes I may buy her a Vitz. She needs to change her behaviour.)
Syokau talks about financing Ringtone
In May 2022, the Twendi Twendi hitmaker joined the list of brand ambassadors for Zero Hero Properties Limited, the company that gifted actor Omosh land.
She then offered to finance fellow singer Ringtone whom she often expressed romantic feelings for.
"Naskia Ringtone pesa imeanza kupungua. Mwambie I am now the boss, I can finance him!" she said bullishly.