Taking to her Instagram account the curvy beauty queen posted a photo of her dad and mom, where they were all smiles for the camera.
From the photo it was unmistakably the two had in deed attended some event together for the night and surprisingly affectionately stood close to each other for the shoot.
Muthoni Wa Mukiri accompanied the post with a sweet caption,disclosing her parents have lived 36yrs happily married.
She said " Crushing on this couple…My favorite humans #mumanddad #36 years of marriage ❤️❤️".
The parents lived in Matimbeni area,Kiambu county since it's the home town of Muthoni Wa Mukiri, and she attended Matimbeni Primary School during her school days.
Aside from her media career Muthoni Wa Mukiri is the owner of Mukiri Hair Hub which sells premium wigs and human hair.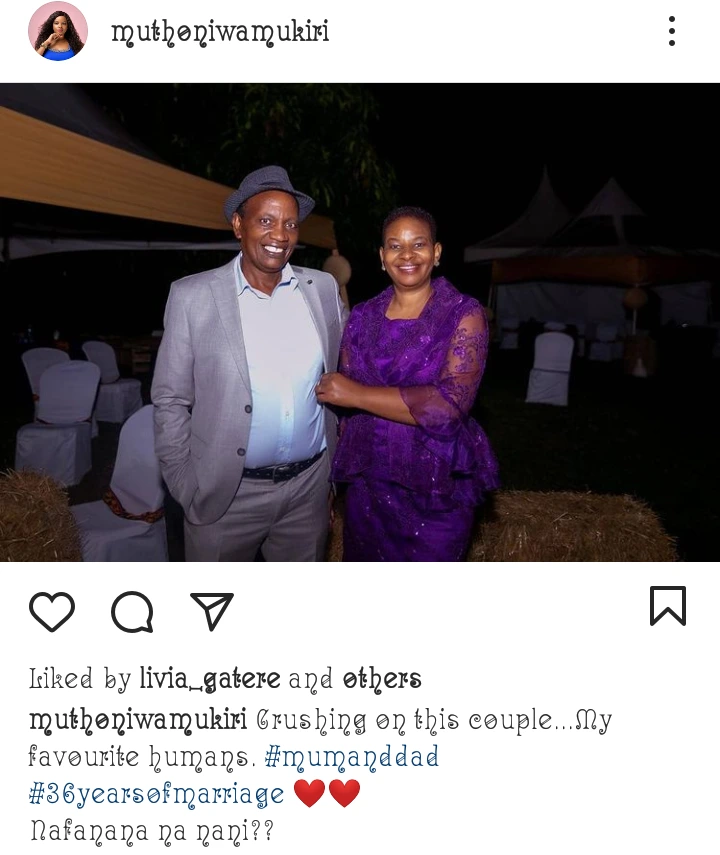 Anyway concerning her Instagram post, make no mistake she trurly adores her parents and has on numerous occasions held them in high regard.
Muthoni Wa Mukiri believes that their prayers played a huge role in her successes in life.