In a society that frequently exalts superficiality and perfection, only a few public figures have the courage to embrace their true selves in the media. Lulu Hassan, a beloved Kenyan TV host and journalist, recently captivated her audience by sharing an unfiltered glimpse of herself as she prepared for a wedding, without any makeup.
Lulu's supporters were treated to a newfound appreciation of their favorite television personality when she revealed her daily beauty routine on her show. This unscripted moment allowed her fans to connect with her in a more authentic way.
A video of Lulu Hassan in her natural state sparked a considerable online buzz, showcasing a different facet of her personality. Lulu, renowned for her poise and integrity in the media world, made a bold decision that left her admirers in awe.
The striking transformation came when Lulu decided to forego her hijab, a traditional Muslim head covering symbolizing respectability and piety. Her stunning braided hairstyle became a source of inspiration for women seeking self-assurance and a fresh look.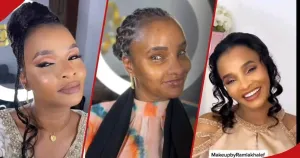 Lulu's decision to cast aside the hijab was a surprising and empowering move that conveyed her willingness to experiment with her appearance. It was a powerful statement that challenged established beauty standards and resonated with her fans.
Web users couldn't help but express their admiration for Lulu's newfound confidence:
Curls.jenny: "God alone can see how stunningly gorgeous you are."
Ali Khattar Al: "As the saying goes, 'Cute always mashallah.'"
Maryam: "Say it with me: 'Looking good, na macho yako yanapenddeza.'"
Its.mercymasika: "It goes, 'Uko na tumacho tudogo tusupuu.'"
Lulu's bold moves extended beyond her change in appearance. She recently conducted an interview with Prince Indah, a musician, in which they mesmerized the audience with their extraordinary performance and captivating dance moves. As Indah sang his Ohangla melody, Lulu, the Swahili journalist, danced to the rhythm with grace, swaying her waist, and flashing her infectious smile for the camera.
While some internet users praised Lulu for her elegance and style, there were also playful warnings to her husband, Rashid Abdallah, regarding the charms of Luo men around attractive women. Lulu Hassan's ability to be herself, both in terms of appearance and personality, is a testament to her authenticity and enduring appeal in the Kenyan media landscape.