Throughout the end of the weekend, all roads led to Nanderema Village in Busia County for the Burial service of the late Papa Shindarula's Mother who died a couple of days ago.
The report about the passing of Mama Valeria Makokha Wafula (Papa Shirandula's mom) was revealed by comedian Jackie Vike also known as Awinja and Jacqueline 'Wilbroda' Nyaminde. The two were among the people who made a trip to Busia for the Burial service.
"Today we celebrated and laid to rest Papa Shirandula's Mum, She was one of the funniest story tellers I've met, alituchapia story ya Bukeko (Papa) akiwa mtoi tulikua tunaisha niaje 😁
She was exceptionally inviting, Alikua anatuandalia unakula unachoka 😃but si ni life, Rest well Mum Valeria Makokha Wafula. We also had the opportunity to visit our mentors grave and catch up abit 😊" shared Awinja.
Wilbroda stated; "What a day it's been. Going back to Nanderema village to lay to rest Papa Shirandula's mum. And fondly remembering our dear Papa. Rest In Peace mama. Say hi to my husband!
@njoroshirandula @jackyvike @mamanyaguthii".
The demise on Mama Valeria Makokha come a year after her child Charles Bukeko also known as Papa Shirandula also passed on.
Father Shirandula is said to have died of breathing complications at Karen Hospital where he was taken by his family on July eighteenth, 2020.
The 58-year-old comedian assumed the part of a cliché security guard living the every day bother and clamor familiar to a greater part of Kenyans.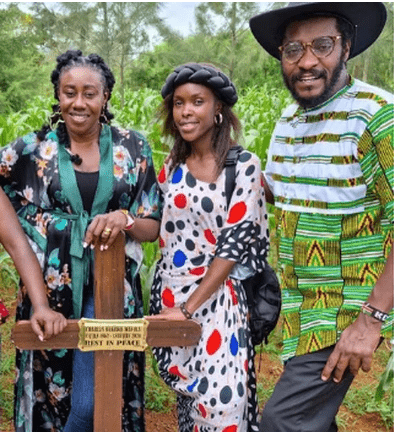 In addition to the fact that he represented the trendy characters of TV comedy, who took over from amazing characters from long-running shows like Vitimbi and Vioja Mahakamani, however he also contributed to the change of acting in Kenya from a low-paying profession to a fruitful one.
Practically all of Papa Shirandula's cast members have since become notable, showing up in promotions, facilitating public broadcasts, and accumulating fortunes for themselves and family.