A lady has taken to social media to share a video showing the moment she stuck her pregnancy test stick into her partner's food to announce that she is pregnant with their child.
In the trending video, the lady could be seen removing the stick from her lover's corndog before inserting her positive test strip in its stead. She, then, served him the corndog while they dined with their friends.
Interestingly, the man didn't notice the pregnancy kit until he had completely consumed his snack. However, it appeared their friends were aware of her scheme as they were watching intently as he ate the snack.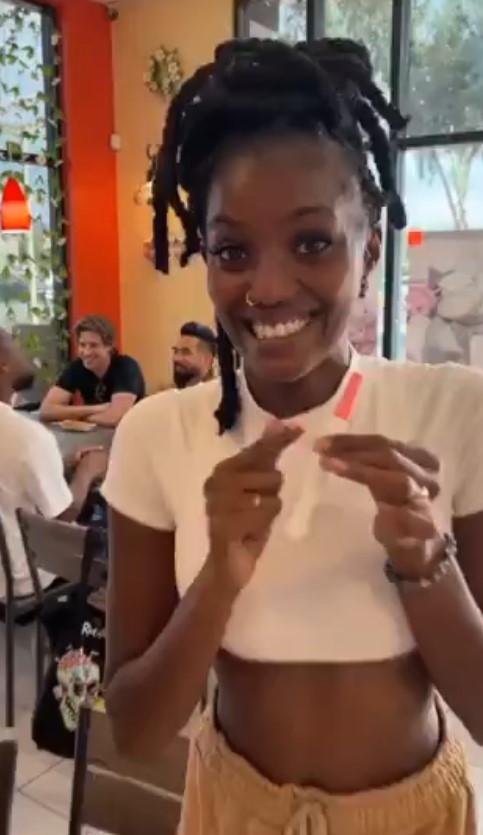 When he eventually realized that the snack contained a pregnancy test kit and saw that it was positive, the young man was visibly elated and stated that he is going to be a father.
The video has sparked mixed reactions on social media, with many questioning the lady's decision to insert the pregnancy test stick which she had peed on in her partner's food.
Read some comments as you scroll,
@motherhen_may wrote, "Men are not always observant, they are very free spirited that was why he couldn't even notice anything! But if na woman from the second bite she for done code"
@mheenarh wrote, "There's are lots of cute ways to tell him, no ru!n food abeg."
@thekingtamuno wrote, "What's wrong with the normal result in an envelop ? People are doing too much , a pilot lost his life doing gender reveal for a couple that had no idea he was dead minutes after the reveal , let's stop with the excesses abeg"
@techbelles wrote, "Sorry to ask oo! Shey they use to put this thing inside urine? Or it's not this type?"