Edday Nderitu, Samidoh's wife, recently shared a video of herself singing along to the song "Single Again" by Harmonize, which has caused speculation among fans that she may have left her marriage. In the video, Edday can be heard singing, "Maybe this love not for me, am single, do you know that am single, am single again."
Her fans have taken to social media to express their opinions on the video, with some saying they are happy to see her happy and accepting things she cannot control, while others are making jokes and expressing confusion about her relationship status.
It's worth noting that Edday recently changed her Instagram profile from "wife" to "mother," and just a month ago, she threatened to walk away from her marriage after her husband's involvement with a nominated senator, Karen Nyamu. In a long post on Instagram, Edday expressed her pain and humiliation and stated that she did not want to bring up her children in a polygamous marriage.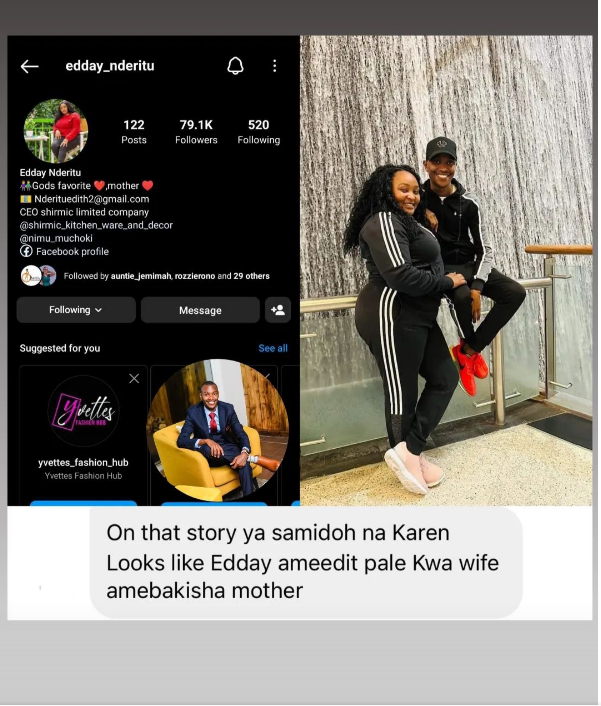 Furthermore, it was observed that Karen Nyamu and Samidoh were together at a recent event and appeared to be having a good time. Karen even wrote Samidoh's name on her cheek during the event, which has added fuel to the speculation about the state of Samidoh and Edday's marriage.
Overall, the video of Edday singing "Single Again" has left fans wondering if she is still together with Samidoh or if she shared the video to gauge the reactions of her followers on social media.