We have seen celebrities, media personalities and even the rich stumbling back. For Ezekiel Apindi, he came from the streets and back again. His story could be touching to any human out there. Formerly working with Kiss Tv as the pioneers, Ezekiel laments the kind of life he is living now. Prior to working with Kiss Tv, he worked as an artist, working in clubs and events. His life looks miserable at this point however. 
For him, he believes much in witchcraft and thinks his state is due such powers. In an interview with Ali the presenter, he admitted he has no house and spends his nights in the street trying to make ends meet. He pleads for any volunteer who could help him find his way back to normal life. He likewise has passion in painting and does not wish to have any work besides his routine.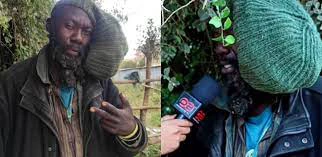 The link here: https://www.youtube.com/watch?v=s2JSywjpaxY&t=327s is a video in a recent interview with Ali the presenter that will leave you emotional. "God tu anaeza guza mtu nipate bungalow yangu, naeza fanya mambo yangu fiti." He said.