The matatu business is viewed as A Bermuda triangle where many have vowed never to go back, some have in the other end made fortunes, such man is Shoko beko the matatu transport investor. But a large number in this sector are always in premium tears.
From chicky Makangas and drivers to a number of traffic cops with appetite for bribes. In a country where everyman is for himself, not very many end up making any profits all its actually a graveyard for many dreams.
To those giving up is never an option and chose to face their demons head on, They have registered success which visibly clear due to their immense wealth.
One such example is Shoko beko who begun as a Makanga back in 2003 earning a mare ksh 150 for a whole days job.
Speaking to Citizen TV, Mr. Shoko revealed how he became a supervisor in 2005 and a manager in 2007.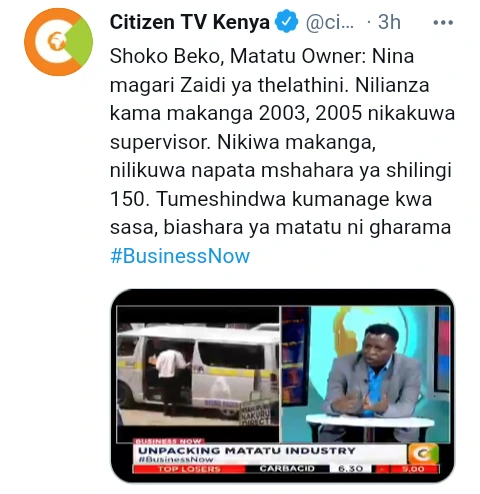 All along, he used to save his money and bought his first Matatu on loan having deposited ksh 800000 from his savings.
From one Matatu, Mr. Shoko is currently among the very well known public transport investor in the country,He owns a fleet of more than 32 vehicles which are managed by his own Sacco alias 'ZAMZAM'. Such is success to the few who choose to persevere in this hectic sector.