According to Peter Murira, the husband, he had left home for work yesterday morning and left 250 Bob for supper seeing that he'd be late to come home.
"Niliwachia Njambi 250 za supper na nikaenda job kuuza insurance, nilifika home kitu 9pm na nikapata Muiruri amekuja kutembea.. Tukajuliana Hali na baadae tukalala." Lakini nilikuwa naona wakichekeshana but nikaasume tu."
Read Also: Betty Kyalo Embarrassed After Her Attempt to Shake Her Behind Flopped Badly (Video).
."Sasa asubuhi nilioga na nikaaga Muiruri juu alikuwa anarudi kwake. Around saa saba nikizungusha insurance, nikaona bibi yangu na Muiruri nikadhani wameenda stage, kidogo nikaona wamebranch kwa rooms zenye ziko hapo karibu na klub tickers……"
"Nikawafuata, wakachukuwa room, mimi nikasema wacha wamalize shugli zao labda wanataka kununua hiyo room, so nikangoja….."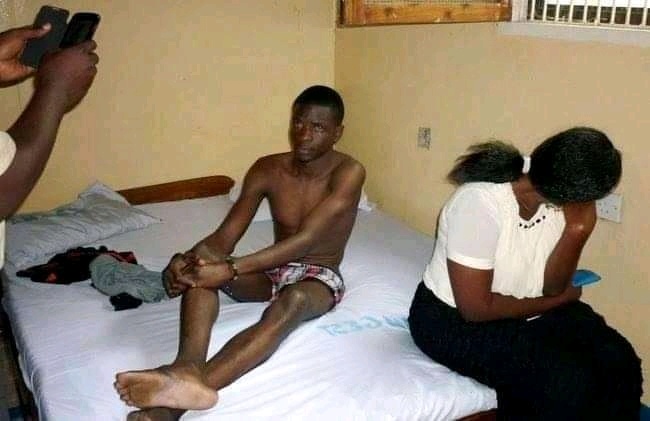 Trending: 17-Year-Old Girl In Kiambu Kills A Drunk Luo Man After He Forcefully Attempted To Rape Her.
"Aai mi nikachoka na nikaaita rafiki yangu, si ndio nikapata hii nyang'au imejitandaza kama imechoka… Mimi huyu bibi simtaki tena na hii ghasia kutoka Leo si brother yangu… Huyu mmama aende akiendanga, ata hatuna watoto," Said Murira bitterly.
Read Also: Introduce Your Child To Their Real Dad; Loise Kim Tells Single Mothers.
Cases of Infidelity are on the rise in Murang'a County and according to Doctor Stacy Kiragu, a counselor in the town, she said that only trust and loyalty can make a family stand strong together.
Do you have a ground moving story? Share it with us on WhatsApp 0711750807. Murang'a Newspaper: Bold and Factual.