Murang'a County is notoriously know for its illicit brew dens.
Even though some might argue that Changaa is a traditional drink, fact is, the brew is hazardous to one's health.
Most people confuse Muratina with Changaa with the later being perfectly brewed following the traditional procedures.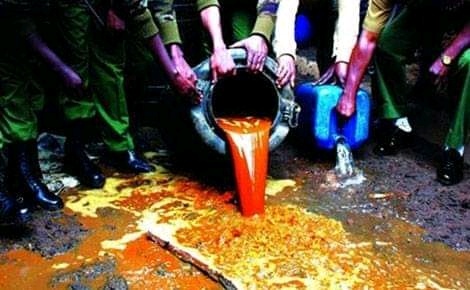 Changaa on the other hand is brewed in some stinking joints and surprisingly, the ingredients makes one feel nauseated.
Lizards, dirty panties, Bras and used condoms are some of the stuffs found in most of the illegal dens.
This stuffs are used as charms to get the customers addicted and come back for more.
Murang'a and Kiambu are the badly affected areas with over 90 Changaa addicts dying from consuming the poison this year alone.
Countless crackdowns have been conducted by the authorities but dens continue to sprout out all over the Mt. Kenya region.
The government has however put in measures to curb the spread of the illicit trade and have also started rehab center.